Do you like to come up with something, enjoy writing and want to exchange yourself with like-minded people? Here you have the opportunity to inspire yourself and others. Start writing a story and activate your friends. Share your ideas and your creativity and create something new – a Splitstory. It's really simple!
What is a Splitstory?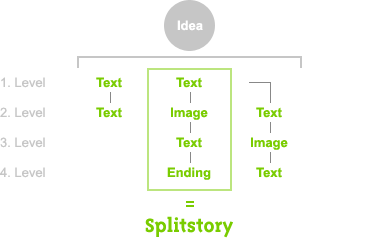 A Splitstory is a completed storyline of linked texts by one or several authors.

You have the possibility to end the story after each added text – this way you can turn a text string or a twist into your personal ending.
Participate
You simply have to sign up for your participation in Splitstory. Sign up is free-of-charge and your data is in good hands with us. What are you waiting for?
Splitstory - follow your thoughts!